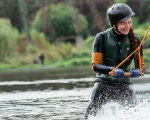 A new extreme sports entertainment opens in Bukovel on lake number 2. Pleasure is not cheap, but worth it

Wakeboarding is an extreme sport in which you ride a board with bindings on the water while following a cable car.
Under the supervision of experienced and patient STAV14 trainers, here you will get on the board in one session, learn a variety of tricks and figures, and after that you can relax in a friendly rider atmosphere.
This sport is available to everyone: both children from 5 years old, and those who cannot swim (you are kept by a vest and the coach's motivation), and elderly people who are not afraid of an active life.
Before the first ride, it seems that wake is just fun. After the first training - comes the understanding that this is a sport. And after the first trick performed - the confidence that this is love for life!
Wake Park is located on Lake No. 2, to the left of lift No. 11 and the Food Park.
25-07-2022, 10:33