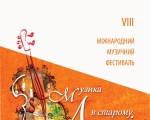 The international festival started on August 14 at the Philharmonic and will last until August 28
At the opening concert, the works of modern Ukrainian composers were performed by musicians from three cities. People's artist, well-known violinist from Kyiv, Bohdana Pivnenko, was invited to tour the "Music in Old Lviv" festival.
Every year, concerts within the framework of this international festival are held in the architectural pearls of the city to popularize historical monuments and ancient cultural traditions. At the same time, it takes place in two cities - Lviv and Krakow. The festival is once again supported by Kredobank.

Before and after the concert, the audience could see in the lobby the pictures drawn by children within the framework of the "Courage to Be Close" charity initiative. During the two-week festival, music lovers can expect 6 unique events.
"This year's festival is very unique and unusual, because mainly there will be performers who have been affected by aggression, they are from the occupied territories," said the soloist of the Lviv Philharmonic, Olena Matselyukh.
Concerts will be held at the Philharmonic Hall, St. George's Cathedral, as well as in Krakow, Poland. The "Music in Old Lviv" festival will last until August 28.

https://zaxid.net/news/
19-08-2022, 10:34