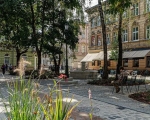 The Lviv project competes for victory in the final of the 2022 European Prize for Urban Public Space

The Barcelona Center for Contemporary Art has announced the finalists for the 2022 European Prize for Urban Public Space. The Koliivshchyna square reconstruction project in Lviv was included in the top 25 projects. As the press service of the LMR reported on July 26, the international jury selected 25 finalists from among 326 works.

We will remind you that after a year and a half of reconstruction, the Koliivshchyna Square was opened on September 12, 2021. The reconstruction project was developed by the "Ruthenia" architectural bureau. On the square, all engineering networks were replaced, the cobblestones on the roadway were replaced, the paving of the sidewalks and the square itself were replaced, unusual street furniture was installed and new green areas were added, and the well was restored in the place where it was back in the 19th century. During the reconstruction, archaeologists found a fragment of the medieval High Wall, which was the first line of defense of medieval Lviv.
The restored well is a place of memory: on it you can see selected names of Lviv men and women who lived around the square from the end of the 19th century until the Second World War and were recorded in the address books of different years. Their names and professions are written in Yiddish, Polish and Ukrainian and convey the busy and changing life of this precinct. The square was reconstructed within the framework of the grant project "Common Responsibility for Common Heritage" (ReHERIT) commissioned by the Department of Historical Environment Protection of the LMR and with the support of the European Union.

We would like to add that the area of Koliivshchyna between st. Old Jewish and Rohatyntsiv Brethren arose in the early Austrian period on the site of the old Jewish district. Originally, the square was called Zhydivska, and in 1871, after the conversion of the conscription numbering to the street, it was renamed Vekslyarska. In 1944, the Soviet authorities changed the name to Koliivshchyna square.
27-07-2022, 09:35