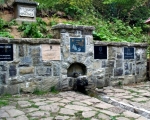 At the beginning of the week, an eco-activist from Yasin published a stunning video about the fact that water has practically stopped flowing from the source from which the Tisza River originates.

"Something went wrong... or the faucet was turned off," said the Transcarpathian. The comments only suggest what could have happened. According to most, the source is affected by very dry weather with low rainfall. Since precipitation did not fall for a long time in a large area, the water level in the rivers of Transcarpathia also remains at a record low.
There is another opinion. Thus, environmentalist Oksana Stankevich-Volosyanchuk believes that the source dried up due to human intervention:
"Around the nature reserve, the Yasinyan forest farm is expanding the forest road for the Svidovets resort. This was categorically impossible to do. This expansion of the road significantly dries up the forest massif. We warned about this. There is currently drying of spruce trees due to water loss. There is only one road, and a tap with water overlapped. How many more times to say that the valley of the Black Tisza River must be protected and logging should not be allowed!"
The outflow of the Tisza River is considered to be the outflow of its longest tributary, the Black Tisza River. The beginning of the river is located on the southwestern slope of the Bratkivska mountain of the Vododilno-Verkhovyna range. An old cobbled road leads to the beginning of the river from the Okola pass, which leads to a large meadow. On the right side of the road, on the border of the meadow and the forest, there is a huge block of stone, on which it is written that the source of the Tisza is here and the date is 1882.
A monument was built here in the form of a large concrete wall that supported the slope. A spring flows from this wall. This is the origin of Black Yew.
The Tisza River is the largest tributary of the Danube in terms of area and length and the second, after the Sava, in terms of water content. The area of the pool is 157,186 square meters. km The length of the river is 966 km. The main part of the flow of the Tisza River is formed on the territory of four states: Romania - 51%, Ukraine - 25.6%, Hungary - 10% and Slovakia - 13.4%.
All rivers on the territory of Transcarpathia either flow directly into the Tisza River or into its tributaries.
28-07-2022, 09:13