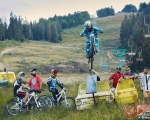 We are starting a selection of publications about bike parks for manoutin bikers in Ukraine, today we will talk about a bike park in Pylypets - one of the best in Ukraine

In 2011, a bicycle park was launched in the high-mountainous resort of Pylypets in the Carpathians for lovers of extreme mountain biking. The beginning of the bike park (bicycle park) is located a few meters from the upper station of the chairlift on Mount Gemba in Pylypets, which takes tourists with bicycles up the mountain. And the finish line is at the beginning of the cable car.
The Pylypets bike park in the Carpathians consists of several trails with ski jumps, stone obstacles and wooden bridges across ravines for extreme cycling. Three tracks in the Pylypets bike park are considered professional; annually Ukrainian championships are held on these tracks.
You can ride a bike in the Pylypets mountain bike park on the following routes:
bike track No. 1 Super Mario - real extreme, difficult track, difficulty level 5 out of 5, track length 2.35 km;
cycling track No. 2 Kapitoshka – difficulty level 4 out of 5, track distance 2.85 km;
Cycling route No. 3 Gorillas — cycle route of medium difficulty 3 out of 5, 3.65 km long;
cycling track No. 4 Romantika – relatively low difficulty level 2 out of 5, the longest distance is 5.1 km.

Opening hours of the cable-chair lift of the Pylypets bike park:
weekdays - from 10-00 to 16-30 hours,
Weekends are from 9:30 a.m. to 4:30 p.m.
29-06-2022, 09:10